Enhancing Team Communication and Organizational/Team Culture
Improving Leadership Skills and Team Communication to Improve Working Relationships and Manage Conflict
Sign up for our newsletter to learn tips and new research findings
#1 Communication Problem for Managers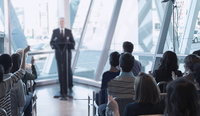 As workplaces become more diverse, the need to communicate properly becomes more important. Communication between managers and employees, across departments, between customers and employees and between employees and vendors are all essential to how a business operates on a day-to-day basis. Even though communication is recognized as a key to a successful work environment, companies often struggle with poor communication in their workplaces. - forbes.com

What's the #1 communication problem for managers? Active Listening
Internal Communication Strategy Consulting
We help new/young businesses create and maintain a strong organizational culture
We help you develop or improve internal communication systems that work for your growing company which helps maintain the organizational culture and improves employee engagement and satisfaction
Conflict Management in Teams
There are many reasons teams have conflict. We focus on managing and resolving conflict through effective communication methods and see conflict management as a strategic endeavor. We offer group training, 'lunch & learns' and one-on-one coaching for staff and leadership on conflict management. We use research-based, proven useful tools in the field to help manage conflict.
---
Team/Group Assessment and Leader Coaching
We give your team(s) the IC assessment (below) to find out what areas need improvement and offer group training and one-on-one coaching to help your team(s) improve group cohesion, productivity, decision-making, problem-solving, conflict resolution, team leadership, more efficient processes, accountability and synergy.

---
Organizational Culture & Communication Assessment
Maybe you have a hierarchical organization or just feel you want to improve lines of communication across the organization and want help creating a more collaborative culture. We can assess your organizational culture and highlight areas that can be improved.
Public Speaking
We offer coaching and training on public speaking to help you write, organize and present killer presentations.
We are also available to speak at your event, conference, retreat or other major meeting on any of the topics listed on this page.
Contact us to book a speaker

Our Unique Assessment Tool
We utilize a tool that assesses people's values/norms/preferences in 5 key life areas to help each person better understand their own values, preferences and behaviors in different situations as well as those they work with. This tool has been used in the intercultural, organizational management field around the world for decades. We have taught seminars on this tool for years and participants say it has profoundly changed how well they understand their own work and communication style as well as others. It improves communication, work productivity, teamwork and conflict management.
We are experts in adult learning. Our trainings are not lecture-based. We believe in order for people to learn, it's necessary to be engaged in the material and to integrate the new knowledge through group activities and self-reflection activities and discussions. Our passion is teaching and learning and we have over 10 years experience doing it. The usual comments we get after presentations, workshops and trainings is, "this was the most interesting/fun/best presentation/workshop/training I've attended!".
---